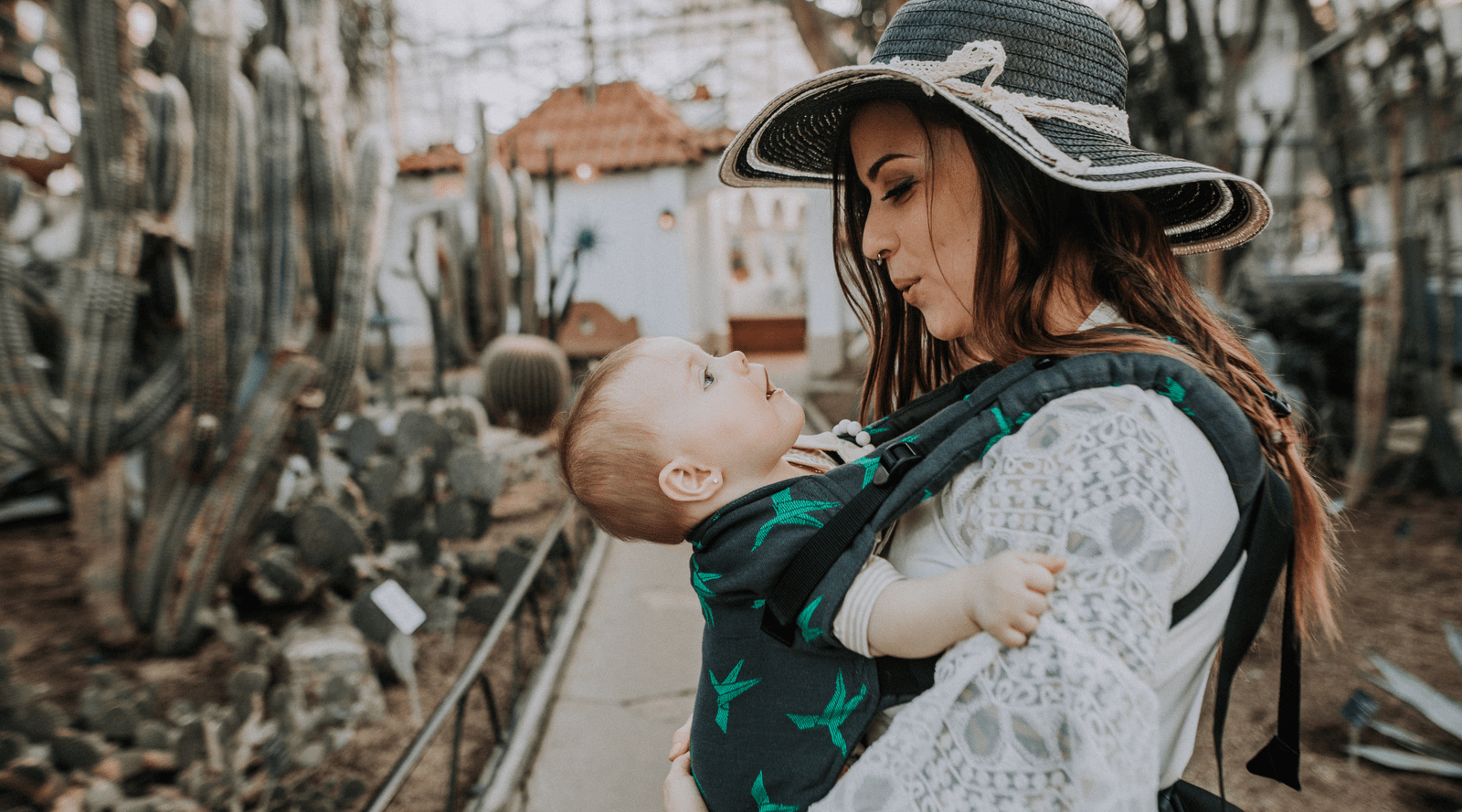 ANY QUESTIONS? SEE THE ANSWERS BELOW:
WASHING Our fabrics are pre-washed, but the process of making a Gustine baby carrier after cutting, assembling and sewing is not completed until the fiber has swollen to occupy the space provided. In other words, not washing a Gustine before its first use leaves empty spaces between the stitches, which weakens the fabric and also increases the risk of thread shifting. - You MUST wash your Gustine carrier before the first use. - It is not recommended to wash your Gustine carrier in the washing machine. - Hand wash in cold water with a mild soap, without perfume or bleach. Baby soaps are not recommended. DRYING - Do not tumble dry. - Press to remove as much water as possible. - Lay out and let dry completely. - Avoid direct sunlight and heat sources. - Choose a well-ventilated area to speed up drying. - Do not use the carrier if it is not completely dry. IRONING - Do not iron our products.
WASHING The same care instructions for the carrier apply to our wraps and Ring Sling as well as all our other products. However, it is possible to wash the wraps and Ring Sling in the washing machine. For optimal efficiency and protection of the fabric, we recommend that you wash in this way: - Delicate cycle - In cold water - With a mild soap without optical brightener - Dry flat - For the Ring Sling, we suggest you put a stocking on the rings, in order to protect the drum of your machine and minimize the noise. IRONING - To avoid
Bien sûr! Nous recommandons un lavage en machine, à l'eau froide, au cycle délicat et idéalement dans un sac de lavage. Un savon doux (sans azurant optique (agent blanchissant) et sans assouplisseur. Ne pas utiliser de savon en poudre utiliser de savon en poudre.
All orders are processed in 2 steps. We make almost all products the moment they are ordered to avoid excess inventory. Manufacturing time Approximately 3 to 5 business days. Times may vary depending on demand and holidays. Delivery time Once the manufacturing process is completed, the orders are given to our carrier who will ensure the delivery. Delivery times vary depending on the country, region and city. All information about delivery times can be found here. **It is possible to buy a Preschool carrier by custom order only. The manufacturing time is longer, about 2 weeks.
The majority of our shipments are made by Purolator. In the case of deliveries to more remote areas, it is possible that we use Canada Post as transporter. At the checkout stage, the choice of transporter can be made in the "Delivery" section.
Your satisfaction and the safety of your children are priorities for Gustine. We always guarantee a courteous and pleasant service. We offer personalized advice for your situation, in accordance with the recommendations in place in the babywearing industry and our values. We also offer a repair service. If your product has a damage to the fabric, a seam or other, which could compromise the safety of your product, never hesitate to write us. We will analyze the situation with you. Charges may apply depending on the condition, the breakage or the time elapsed since the date of purchase.
The MK Wrap and MK-BABY have a minimum weight of 8 lbs and a maximum weight of 25 lbs. The Water Ring Sling also has a minimum weight of 8 lbs and a maximum weight of 25 lbs.
The clips are designed to facilitate adjustment when carrying a newborn from the front, when the baby weighs between 8 and 15 lbs (3.68kg to 6.80 kg). It is recommended to stop using them when the adjustment of the baby carrier seat causes the fabric on the belt to start covering them.
The Gustine Evolution is safe to use as soon as your baby reaches 8 lbs (3.68 kg). You must also consider the natural spacing of the child, the height of the carrier and the general adjustment of the carrier to your child's morphology. The stated weight is a general indication. For your child's safety, it is essential to consider all these parameters.
Actually, you should change when the apron is no longer safe.
As long as the apron goes high in the back AND the baby and carrier are comfortable, there is no emergency.
When the child begins to be less comfortable due to the height of the apron or the width of the seat, a change may be considered.
In general, the Toddler is optimal around 2 years of age, which is around 32 inches (81-82 cm) in height and about 25 lbs (11.34 kg).
Despite all these indications, it is strongly recommended to try out a Gustine Toddler to validate that the fit and installation are safe and that the apron has a good height.
The Preschool is designed for older children, weighing a minimum of 30 lbs (and a maximum of 65 lbs) (13.61 kg to 27.21 kg). It is perfect for preschoolers who still like to be carried and want to rest their legs, from time to time. The Preschool is large enough for good weight distribution and comfort with children 4 years and older. It generally fits around 38 inches (96-97 cm), and a minimum weight of 30 lbs (13.61 kg).
When starting out with a wrap, we strongly suggest starting with your basic size. What is the basic size? It's the size of wrap you'll be able to comfortably do a cross wrap (FWCC) with. Finished with a double knot in the back, without being in the tips to tie the knot, nor without too much fabric left over. A person who dresses XS/S, will generally have a base 5. A person who dresses medium or large, will often have a base 6. A person who dresses L-XL will have a base 7. When in doubt, choosing the larger one is a good option. Otherwise, longer or shorter, it will only be your knotting options that will change! How long is a gustine woven wrap? A size 4 measures 3.7 m A size 5 measures 4.2 m A size 6 measures 4.6 m A size 7 measures 5.2 m How do you measure a gustine wrap? In the world of babywearing we say ''STIH'' (soft tape in hand). So we measure a wrap from one point to the other, on one side only, using a soft tape in the air. We take care to follow the edge to have a good measurement.
All Maman Kangourou products are available in one size (XS-XXL). They are made of a stretchy fabric which allows them to fit many different body types.
Our Evolution carier can be used baby facing you, on the hip and on the back. It is not possible to carry your baby facing forward with our carriers. For the curious little ones, we suggest that you opt for a hip carry.
Hip carrying is recommended from 4 to 6 months, when the child has developed good muscle tone in the torso and neck. Baby should be able to roll over onto his stomach and back and sit up without assistance. It is also important to ensure that the wearer's hip does not force the baby's natural spread.
No, unfortunately none of the Maman Kangourou baby carriers allow for safe back carrying.
The Maman Kangourou stretchy wrap can be worn belly to belly, with baby facing the carrier, as well as on the hip. The MK-BABY is worn belly to belly in its standard use. It can also be worn as a Ring Sling on the hip and off-center. The water Ring Sling can be worn ventrally off-center with a very small baby or on the hip with a larger child.
You will find under each product on our website, different videos to help you install the product. Choose the product you are interested in and click on the "Tutorials" tab.
No. To do so, you would need to have 2 different baby carriers.